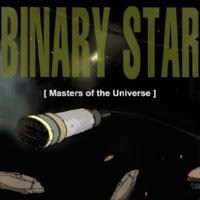 Binary Star - Masters of the Universe
(2000)
Reality Check

Conquistadors

Solar Powered Intro

Solar Powered

Slang Blade Intro

Slang Blade

Binary Shuffle Intro

Binary Shuffle

Fellowship

New Hip Hop

Masters of the Universe

Indy 500

Evolution of Man

I Know Why the Caged Bird Sings (part 1)

I Know Why the Caged Bird Sings (part 2)

Honest Expression

Honest Expression Outro

Glen Close

Wolf Man Jack Intro

Wolf Man Jack

One Man Army

KGB Intro

KGB


Album Outro
Binary Star consists of One Man Army (now One Be Lo) and Senim Silla. They hail from Michigan. Hands down, this is one of the best Hip Hop albums ever created. Masters of the Universe is the mastered version of their first album called
Water World
(1999). Although these two masterful emcees broke up a while ago, they still pursue solo careers, and occasionally come together to do shows, as they have recently. One Be Lo is the most successful of the two, with releases such as S.O.N.O.G.R.A.M. (very good album) and his most recent
The R.E.B.I.R.T.H.
Senim released an album called The Name, The Motto, The Outcome, but it wasen't too popular. To me they preform best together, they are like Q-Tip and Phife Dog from ATCQ. Lyrically, these two are skilled, extremely skilled, they spit some of the best rhymes I've ever heard.
"

Bio-hazardous agent on Sillas airborne




Infectuous rhyme lectures spit quick and effective




Dangerous, lethal languages of slang could kill




Murder he wrote, an assassin would remain my skill




Senims a rough son of a gun keep razors under my tongue




Strike with enough force to puncture a lung




Im lyrically harmful, literally speaking




Emcees Im proud beatin, demeanin and ill treatin




Get introduced to mines and meet your demise




I despise rap guys and all they whack ties




Cause in my eyes, all men are not considered equal




Especially if you ain't one of Binary's people

"
They are hands down, the best duo to make an album. I have no favorite song on this album...simply because the whole album is amazing. Certain songs show more skill than others such as KGB, which features 6 other artist such as Elzhi, and J.U.I.C.E, Masters of the Universe, which shows the chemistry between Senim and One Man Army, Fellowship with the Athletic Mic League, Honest Expression, Conquistadors...who am I kidding? The whole album is amazing. Download it if you don't have it.

Get It!